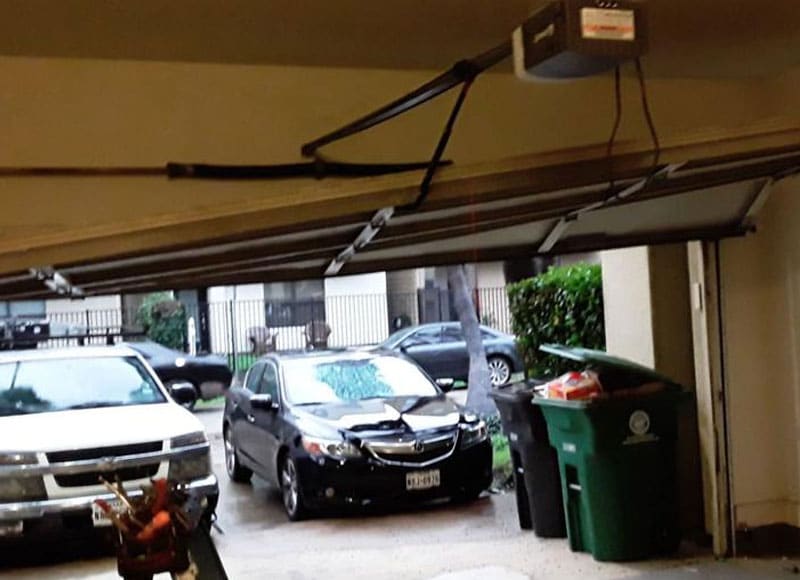 Is Your Garage Door Off-Track? We Can Help!
"*" indicates required fields
Garage Door Off-Track Repair and Replacement Houston
Is your garage door jammed, screeching, or squeaking? It may need a garage door track repair, alignment, or replacement. We're the local experts for residential overhead garage doors as well as commercial garage door opener repairs. An out-of-wack door is not only an annoyance, but it's also a safety hazard. You can count on us to properly take care of garage door tracks, or any other repair that's necessary, with fast emergency services. And competitive rates.
A Serious Problem
For proper operation, the door's rollers should glide smoothly along the two rails on either side.
But they can become bent, misaligned, or damaged. Or the rollers could jump off track causing noises, shaking, and perhaps a jam. That's an unsafe situation because the extremely strong springs are likely still applying tension which can cause unexpected movement.
Off Track
There are a variety of problems that can cause the rollers to go off track. Some are quick fixes, others are more involved.
broken or worn rollers
broken springs
broken cable, drum, or another drive mechanism
corroded, damaged, or dirty tracks
damaged attachment to the garage
damage to the door or one of its panels
loose fasteners
misaligned tracks
poor lubrication
After a thorough inspection, we can in many cases simply get the rollers back on track, make a few adjustments, and clean and lubricate according to the manufacturer's recommendations.
Repair
After determining the cause, other garage door track repairs involve simply replacing a few parts. But a repair may also involve correcting misaligned tracts so that they're level and perfectly perpendicular to the door
Replace
Over time tracks may become bent, highly corroded, or severely worn. Physical stresses can lead to metal fatigue, causing the track itself to break. We have years of experience replacing bent and damaged garage door tracks. Unless the door and opener are also showing their age that's the best and most economical approach.
After a repair or replacement, we'll adjust and test everything, making sure that we've restored the original smooth, quiet operation. And that your garage door will be reliable for years to come.
The Houston area professionals, we hold ourselves to the highest standards while keeping our rates economical. Locally owned, we're a licensed and insured company that's been in the business for over 10 years. For urgent needs, we provide emergency services with arrivals in under an hour.
We Service All Major Brands