Our team of Garage Door Installation technicians will help you with every step of the procedure. Our contractors are licensed and experienced with the expertise required to know all the shortcuts and tricks to the trade, to make your installation or maintenance and repair go quickly while giving you the satisfaction you deserve.
We have a warehouse fully stocked with wooden, glass, and also steel materials, so whatever you want your garage door to look like we have you covered. You can go for the distinct show-stopping door style you get with glass, or the sophistication and charm of conventional wood doors or steel doors with wood finishing to offer the beautiful look of hardwood garage doors with the durability of steel garage doors. No look is too hard for us.
Give us a call today at (281) 915-2555 to schedule an in-home estimate.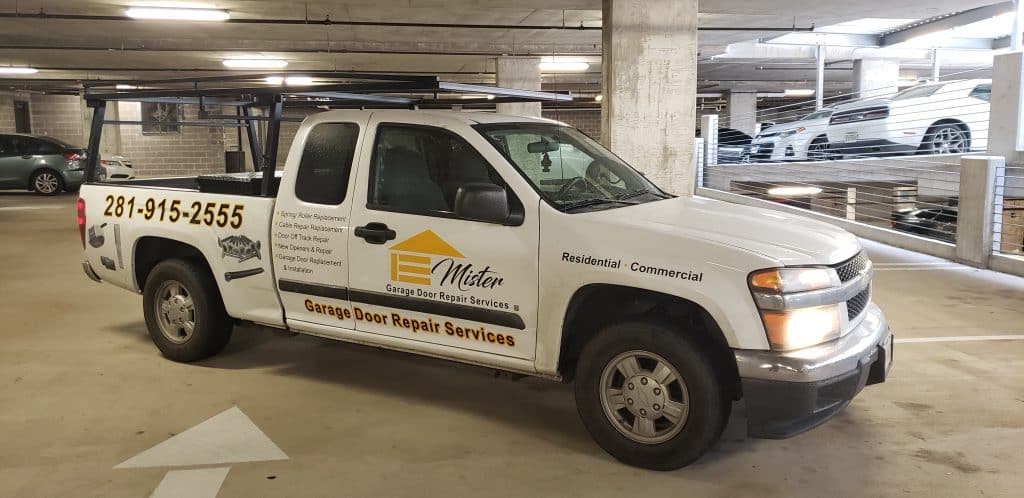 Popular Residential Garage Door Styles
Although garage doors come in numerous designs, styles, as well as dimensions, there are about four typical style categories that most home builders and designers comply with when selecting residential garage door styles for certain homes.
The Classic Garage Door Style
The conventional style garage door is designed particularly for "classic" residences such as Colonials, Cape Cods, and various other popular designs that have been around for years and even centuries. Traditional garage doors generally include symmetrical panels that are timeless and also subtle and tend to be widely appealing for many home types. Traditional garage doors normally provide raised panels with a clean, organized appeal, however, this broad category can cover styles that align with classic architectures or "historic" homes-- which comprise a large percentage of today's American homes.
The Raised Panel Garage Door Look
The raised panel garage door style is among the most standard choices for both traditional and contemporary residences. Raised panel garage doors are defined by a collection of slightly raised panels that are symmetrical and also clean-looking. Raised panel doors are usually made from fiberglass, steel, or lightweight aluminum, and they are easy to paint. Since raised panel garage doors are stylistically versatile, they have favored choices for both conventional and also contemporary house styles.
The Carriage Garage Door Style
Carriage houses have been around for centuries, and their conventional charm still attracts the masses today. Even if one doesn't have a carriage house, carriage house garage doors are typically the garage door of choice. The carriage garage door style's beautiful features are conveniently transferrable to a handful of other home styles. Carriage garage doors are characterized by their rustic, barn door-like look. They typically open by hand like a standard double door and sometimes include a row of compact windows running across the tops of the doors. Nevertheless, many modern carriage house-style doors can be opened automatically.
The Contemporary Garage Door Design
Contemporary or modern-day garage door styles generally infuse some traditional elements with cutting-edge twists. Most contemporary garage doors feature clean, stylish panels with bold borders and a mix of metal, glass, and wood. There's no "one" contemporary style, which belongs to the beauty of choosing this type of garage door. Contemporary styles are very customizable and are remarkably appealing on an already modern house.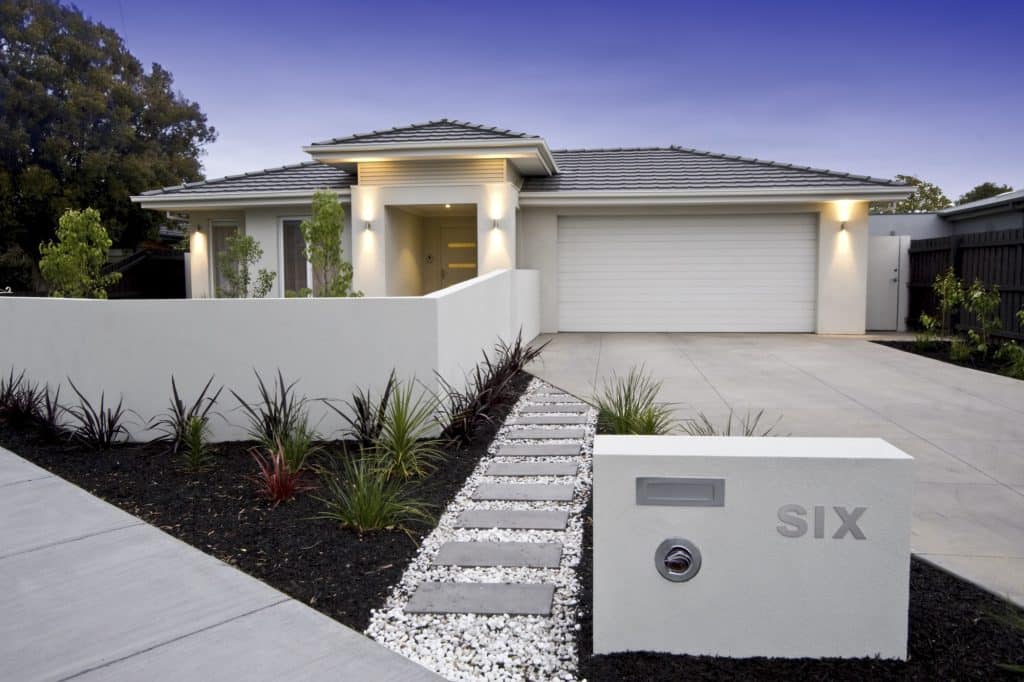 7 Advantages of Buying a New Garage Door
Garage door replacements offer a wide array of benefits to your home. Here are 7 real benefits of installing a brand-new residential garage door:
1. EVEN MORE SECURITY AND SECURITY
Oftentimes, garages are affixed directly to the residential property, and also most of us store belongings in our garages that we need to keep safeguarded from robbery. Replacement garage doors by Garage Door Specialists, Inc. are designed for a precision fit, always keeping the outside, out. Keep your garage guarded by switching out older doors with newer ones designed to prevent criminals from gaining access. A tough, insulated replacement garage door offers much better safety and enhanced property security.
2. RAISED HOME VALUE
According to Remodeling Magazine, replacing your garage door is the # 1 home renovation for getting your money's return. Simply put, garage door replacement has the very best ROI of any other residential property makeover. If you're aiming to sell your home or just fix it up for the long run, installing a new garage door is one of the most cost-effective ways to add value to your house! Learn more regarding new garage doors enhancing home value.
3. BETTER APPEAL
Your old garage doors have been through their share of winters and also probably look like it too. Upgrading your overhead doors improves your property's look. Better appeal, security and insulation all add to an increased home value. If you're thinking of selling your home, replacement garage door panels are a cost-efficient way to add value to your residential property.
4. SUPERIOR INSULATION
Today's garage doors are crafted to keep your garage cooler in the summertime and also warmer in the winter. Upgrading older doors with enhanced models enables you to enjoy your garage comfortably and save you money on your energy bill.
5. SAFETY AND LIABILITY
Modern doors are equipped with a variety of security features to protect you, your family, and your guests from accidental injury. Replacement doors may also help you save on your insurance policy.
6. REDUCED UPKEEP
Several older garage doors need repair services and fresh paint each year and in some cases, more often. Free up your time and eliminate this chore with doors built to withstand the elements.
7. IMPROVED UTILITY
Broken or damaged overhead doors can discourage garage use, preventing you from accessing significant square footage. Upgrading garage doors can result in more-- and much better-- use of your space.
Why Choose Mister Garage Door Repair For garage door replacement
Family Owned & Operated
24/7 Emergency Services
Local, Uniformed, Trained Technicians
All Major Brands Including Clopay, Genie, Liftmaster, and more
48+ 5-Star Google Reviews
20+ 5-Star Yelp Reviews
Upfront FREE In-Home Estimates
Low Rates, No Surprises
We Are Always On-Time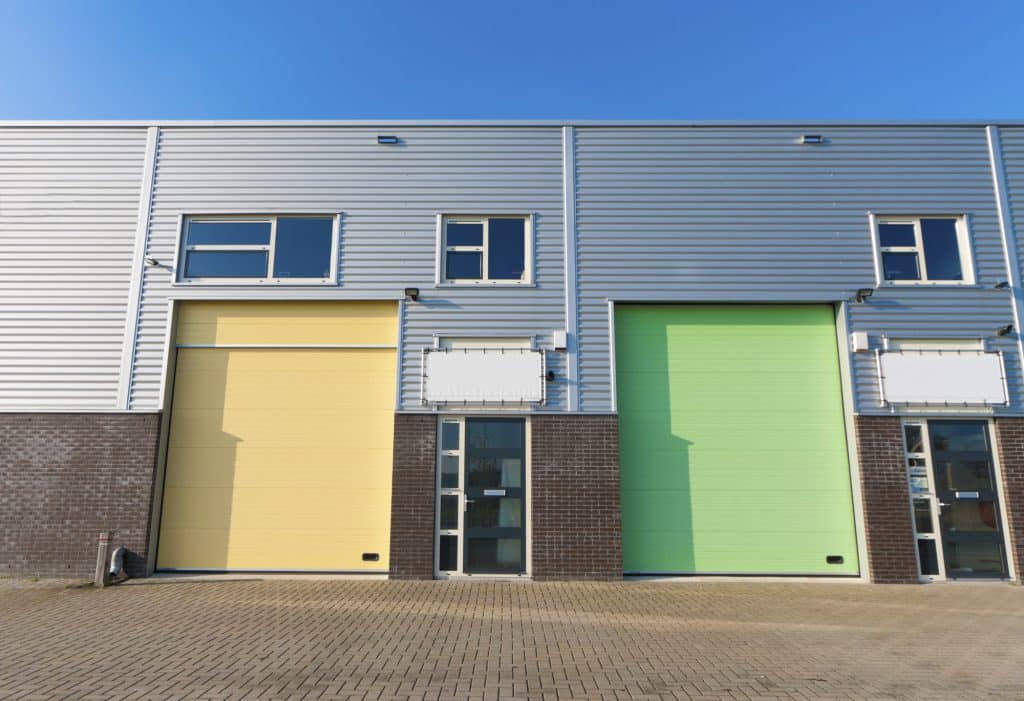 Commercial Garage Door Types
Commercial Garage Doors come in a wide variety of shapes, sizes, and are constructed from a wide range of components depending upon their usage. Some of the principal kinds of commercial garage doors are roll-up doors, fire-rated, doors, overhead doors, and service doors. Each of them has its particular distinct advantages and function differently. Once you have a clear picture in your head of how your door will function and what your building codes require, then you can begin to explore your options.
Below is a brief summary of each in order to assist you to make the very best decision for what type of commercial garage door you need.
Overhead Doors
One of the most favored styles of garage doors is Overhead doors. An overhead garage door is similar to what you'd find in most modern homes. They are identified as such, due to the fact that they are elevated via a track or rail until they are horizontal with the ceiling. Overhead doors are either operated by hand or are motorized using a remote unit that brings the door all the up and lowers it again. They are made from different materials that can vary from glass and aluminum to wood or metal. Overhead doors are sectioned into long slats which are held together by hinges. This is what allows them the flexibility to roll up and down.
Fire Rated Doors
These kinds of doors are good in facilities where chemicals or potentially flammable materials might be present. Fire-rated doors operate in a similar manner as to roll up doors. They are raised and lowered either manually or utilizing motorized equipment. The biggest contrast is that they provide greater protection than most common roll-up doors. This is because they are made from thick, durable stainless steel that is fire resistant, noise resisting, and delivers outstanding insulation. Fire-rated doors are flexible enough to be custom-built for any type of door situation and are usually made use of in warehouses, mills, distribution centers, and parking lot. They provide auto-closing features in case a fire is detected.
There are commercial regulations in place regarding fire-rated garage doors. If you're considering this option, it's important to do your homework and know what the regulations are in your area. These building codes will also give you information about which type of door you'll need since ratings and specs vary depending on the purpose of the building and the location they're in.
Roll-Up Sheet Doors
The name says everything. Roll-up doors roll up into a single-coil when lifted. With roll-up doors, the slats are much thinner than on an overhead door in order to enable the highest versatility to ensure that it can roll easily. If you've ever rented a storage unit, then you'll likely be familiar with this type of door because this is usually the type that protects the front of storage units. Roll-up doors are excellent in scenarios where rails for overhead doors either get in the way or there is no accommodation for rails such as a wide-open warehouse. This provides a cleaner option while giving you the same outcome as any other kind of door. with a roll-up door, the whole model is affixed to the inner wall and led by guides until it is thoroughly rolled up.
Service Doors
Similar to roll-up doors, service doors are typically made from steel or aluminum and work by coiling up. You often see these types of doors used around loading docks, warehouses, or storage facilities. They work by placing slats made from aluminum or steel together into a continuous curtain of metal. Unlike roll-up doors, these doors are usually operated with a chain-hoist or a motor. Also, this coil rolls inside a protective metal hood rather than simply around itself. This creates an even cleaner look compared to roll-up doors.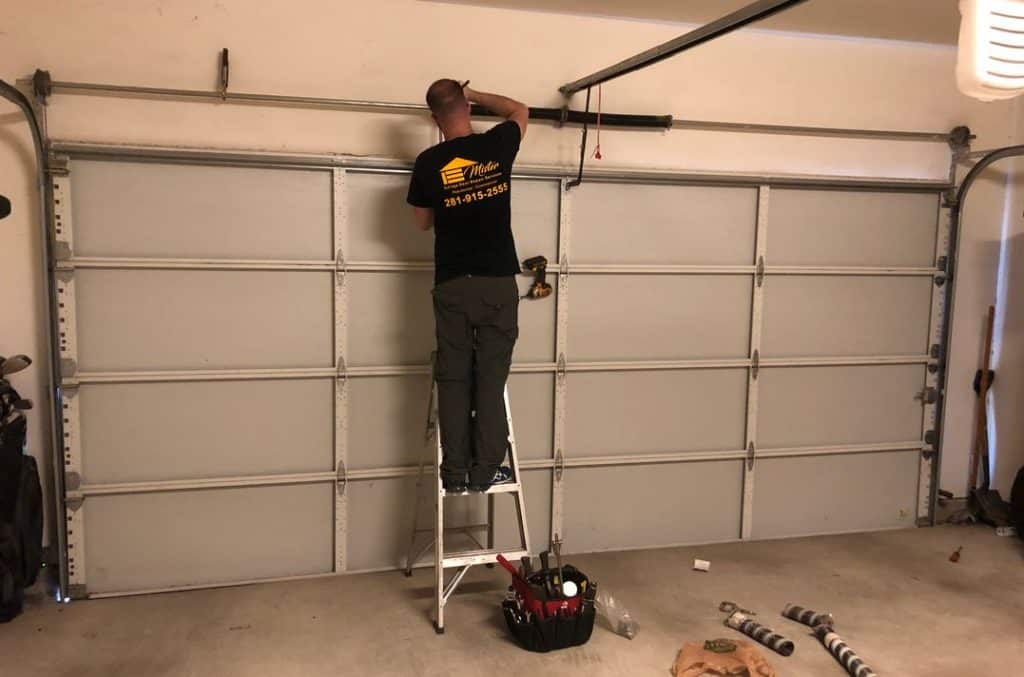 More About the Mister Garage Door Repair Family
Mister Garage Door Repair Services LLC. is a family-owned business serving the Pearland, TX area. We specialize in residential and commercial garage door repair and maintenance services. From garage door openers to garage door tracks we can repair it all at affordable rates. Our local technicians are always on time, they will go over all your repair options in detail and will give you an upfront estimate before starting the job.